On weekends enjoy a romantic dinner in Restaurants Serve Western Food and Drink, Hanoi
If you're wondering what things to do in vietnam , and where to start, Hanoi is a good destination for your starting. On weekends, let's choose one of listed restaurants together with your half to enjoy a romantic dinner.
Related: dalat is the beautiful Flower city in Vietnam
Bobby Chinn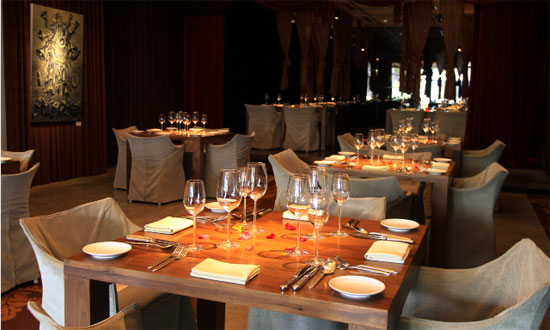 Class luxury decoration in Bobby Chinn restaurant
Restaurant Bobby Chinn was born from the love and natural talent of International Chef Bobby Chinn. Located on Xuan Dieu Street, a restaurant located in a villa with unique western architecture would be an ideal space for those who wish to relax after stressful work. Luxury and romantic space in the restaurant is decorated in the style Fine Dining. The restaurant's cuisines are inspired by the trips around the world of the boss Bobby Chinn. In addition, it also serves a collection of world-class wines with characteristics of many famous wine regions in the world and exotic cocktails.
Related: the hanoi opera house  stands as the architectural, cultural and political symbol of the 1000 year old Capital
La Badiane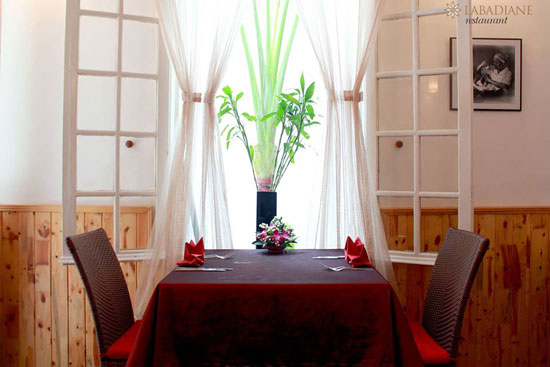 A lunch next to romantic windows is a can't- miss- out experience at La Badiane.
The French restaurant La Badiane at 10 Nam Ngu street is famous for meticulosity in decoration of dishes and service manner of the staffs. The tranquility of La Badiane can be felt right from entering. The restaurant has a small path leading into the sunlit courtyard, while enjoying a dish at a restaurant you can feel the fresh air of nature. Unlike other restaurants, La Badiane does not serve customers with food retail. The restaurant sorts dishes into appropriate sets for breakfast, lunch, and dinner. Each set consists of many different components with fixed price. The set of grilled tasty Australian beef in French-style is outstanding specialty.
Au Delice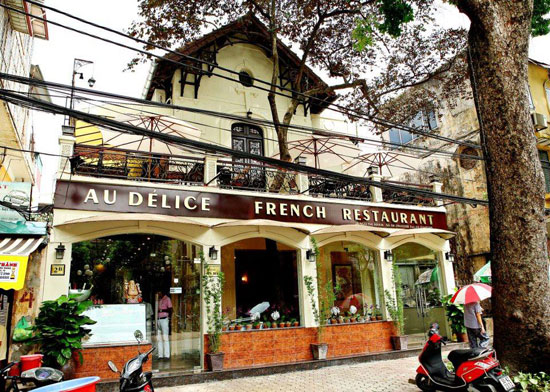 The French restaurant Au Delice with ancient French architecture
The French restaurant Au Delice is outstanding with ancient French architecture, located on Ngo Thi Nham street. The restaurant has two floors; Each floor is decorated with delicate white tablecloths and luxury wooden furniture. Particularly, the 2nd floor has a balcony over looking the church and viewing from high at night. The menu at the restaurant Au Délice is always rich with a variety of imported foods, fish, cheese, cold meat, etc. along with many wines from Europe.
Share This Post: